I am jumping for joy that I am guest posting over at
Shutter Sisters
today!
I took this self-portrait a few weeks back when we were vacationing in Maine. I was pleasantly surprised when I saw that I captured my shadow in addition to my reflection on the lake. Don't you just love when those little happy accidents happen in your photographs?
I was equally surprised when Tracey Clark recently asked me to do a
guest post
over at Shutter Sisters. What an honor, thank you Tracey. I hope you will go
give me some love
over there today dear followers, it would mean so much to me :) Have a wonderful day!
If you are interested in joining me on my smile campaign that I've been blogging about this week, click on the button below for more info!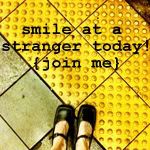 And finally, linking up with the "summertime" theme today at I Should Be Folding Laundry.