Happy weekend everyone! I wanted to share a cool project with you today--it's a postcard swap called "Liberate Your Art" hosted over at
The Kat Eye View Of The World
.
Kat is a super creative woman, and she is organizing this swap where each participant will contribute five postcards with an image of their own art printed on the front. Kat will then send five postcards from different participants back to each person. I don't know if I am explaining this well...you should check out all the details
here
if you are interested.
I'm already in, and Kat is trying to get 200 people to join by June 4th. She's already at 195, so head on over there and help her reach her goal! If she gets 200 participants she is going to send a bonus postcard to each and every person from her own collection. Wow, Kat, good luck with that :)
Why do this you ask? Well, in the words of Kat it's "to liberate your art into the world, where it can do the most good!" I couldn't have said it better myself. And, it's already become a little community--Kat has a list of sites and blogs of everyone who has joined so far and she is wonderful about encouraging all of us to get out there and visit each other.
Now all I need to do is figure out which photo I am going to use to make my postcard. Oh, and, Kat has all kinds of resources for different ways to create a postcard, so don't fret about that part, she really has thought of everything.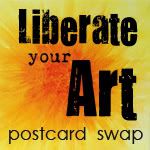 Want to join the fun? What are you waiting for?