I've been meaning to post these photos since my trip to Texas in February, and now that we've announced a self-portraits theme over at
Mortal Muses
I figured it might be a good time to share this ridiculous-ness.
For one of my photography projects this year I have committed to taking 52 self-portraits. As part of that quest, I have been working on my "jump shot". And as you can see here, I need a LOT of practice.
Now, I am not sure if you are getting this people, I am supposed to catch a shot of me JUMPING...in the AIR. If you look at these animated shots you can see me on the bench getting ready for the self timer to start.......and........then....I am on the ground. Let's try again...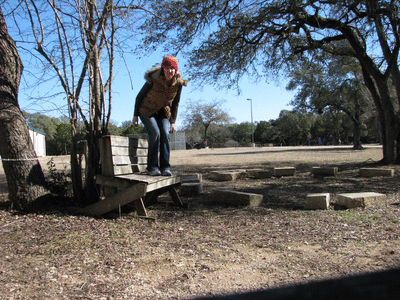 Ahh.........nope, pathetic.
I am happy to report that I did finally manage to get a jump shot in the air. They are not the best photos, but I felt like it was a mission accomplished.
I've had a little more success jumping since then with
this shot
, and I even like
this one
from the same day, where I jumped so high I went right up out of the frame.
Bottom line, although most of us are more comfortable behind the camera, selfies give us a chance to be silly, serious, creative, artsy...the possibilities are endless! I hope you'll try taking a self-portrait this week and show your results in the Mortal Muses
flickr pool
. Want to make one of these animated gifs?
Here's how
I did it.